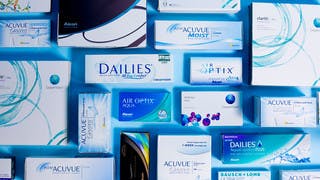 Get 20% Off Contacts
Valid for new customers only.
We have good news for contact lens wearers.  A very competitive online market lowers prices so that you can get your lenses for cheaper.
We have bad news too.  The competitive market incentivizes some retailers to cut corners and jeopardize the safety of your contacts.
As you shop for lenses, we suggest you watch out for these three common pitfalls:
Avoid sites that source their lenses from the grey market
Avoid sites that offer discounts, AFTER rebates
Avoid sites that make it difficult to pay with insurance 
Avoid the Grey Market
In order to undercut the competition, some retailers have resorted to sourcing their lenses from what is known as the "grey market."  The safety ensured by authentic lens manufacturers cannot be counted on for lenses sourced in this underhanded way.
Take a grey market distributor from France.  A U.S. company followed up on complaints to find that a French distributor was mislabeling lenses, deceiving customers as to the products they were buying.  Moreover, they found that these illicitly manufactured lenses were not even sterile, putting consumer eye health at risk.
How can we avoid grey market lenses?  Buy from trusted, established retailers. 
If you are not sure who to trust, a simple price check is usually a good indicator.  While there is some variation in lens pricing, if one site offers a deal substantially below average market price, they may deal in grey market lenses.
Don't Fall for Rebate Marketing
In the contact lens industry, rebates an outdated, overly complicated marketing strategy.  Sites that rely on these tactics may be stuck in old ways and are behind the market curve. 
We recommend avoiding sites that use rebates because they are a major hassle for the consumer.
1.     You buy at full retail price.
2.     You mail in UPC's.
3.     You wait 4-6 weeks for check.
4.     You cash check.
The retailer is counting on you forgetting one of these steps, and the truth is that you can do just as well buying from other honest businesses who discount you from the start.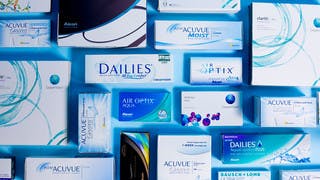 Get 20% Off Contacts
Valid for new customers only.
Use Insurance To Pay for Contact Lenses
Never feel like you have to give up on insurance in order to get the benefits of buying online.  Most major vision insurance companies will cover lenses bought online from a reputable retailer.  Of course, using insurance is never a single button process.
A good retailer who really wants to save you money will make using insurance easy.  Don't buy from businesses who make insurance into a headache.
Check our insurance page at Simple Contacts for reference.  In an easy layout, we tell you which insurances work with us and give you a step by step process to get your coverage.
Other Ways to Save
We've told you what to avoid.  Now, here's a few more ways to spend less on your lenses without sacrificing your eye health.
Purchase Online – Traditionally, consumers bought directly from their doctor, but in today's competitive market this is not usually cost-efficient.  Once you have your prescription, you can find the best price online on your own.
Renew Online – You're most likely familiar with the hassle of renewing your prescription yearly, even if it hasn't changed. Rather than spend the time and money on a doctor's visit, renew your prescription online for $20 with Simple Contact's online eye test.
Don't Overpay – Simple Contacts offers upfront discounts on all our lenses and brands.  Check out all of our lenses here and click "Get Started" to see our competitive pricing for your preferred brand.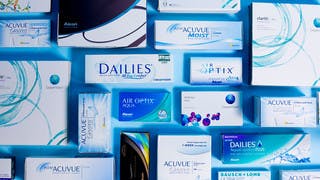 Get 20% Off Contacts
Valid for new customers only.