FSA and HSA are two great accounts for saving on taxes, though the spending restrictions can be daunting.  Fortunately, contact lenses qualify as a legitimate expense.
Here, we'll take a quick look at how easy it is to buy contacts with your FSA or HSA.If you're wondering what these acronyms mean, we also have basic descriptions of these two health spending accounts.
What Should I Know About my HSA?
Both FSA and HSA accounts are required by law to be spent on qualifying healthcare expenses.  These include copays, deductibles, qualifying prescriptions, and certain medical equipment.  Contacts are also covered by FSA and HSA.
There are no limits on how much of your HSA you spend at a time, but you are limited on how much can go into your account each year.
HSA yearly contribution limit: $3,450
Fortunately, with an HSA, there's no rush.  Your funds can build up over time without losing your tax benefits or losing any of your investment.  You can also look into options for investing your HSA funds in mutual funds.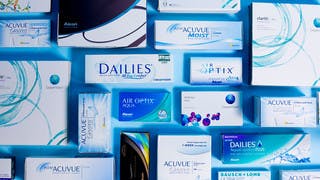 Get 20% Off Contacts
Valid for new customers only.
Are There Limits on My FSA?
Just like the HSA, the FSA provided by your employer can only be spent on qualifying healthcare expenses.  Healthcare.gov can provide a full list.
FSAs also have an annual limit on how much can be put into the fund.  While the amount is lower than an HSA, an FSA may still be better for some as it does not require a high-deductible insurance plan to qualify.
FSA yearly contribution limit: $2,650
Please note that your FSA funds DO NOT roll over from year to year.  Many employers let you carry over $500 or have a couple month grace period into March.  But, if your funds are left unused, they will be wasted.
How Do I Spend My FSA/HSA on Contacts?
Contact lenses are a qualifying expense for both HSAs and FSAs. 
Before purchasing, you will first need a prescription.  Any contacts bought without a prescription will not count as a qualifying expense.  Schedule an appointment with your eye doctor or renew your prescription online.
With your prescription in hand, you can freely spend your FSA or HSA on as many contact lenses as you need.  You can go the traditional route and buy through your doctor, or you can take advantage of the cost savings of online purchasing.
How do you spend the funds?  Check with your provider to know their specific policies, but many accounts give you checks or a debit card to spend on qualifying expenses. Once you know, shop contacts with Simple Contacts and get a bonus 20% off your first order.
If you are still having questions about what is best for you, reach out to your health care plan representative.  They will know the details of your specific plan.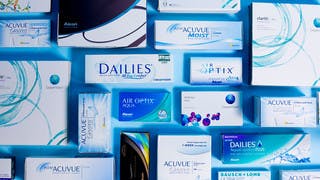 Get 20% Off Contacts
Valid for new customers only.