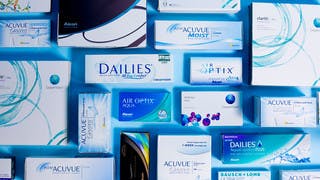 Get 20% Off Contacts
Valid for new customers only.
We hope for comfortable, clear, and cost-effective contact lenses.  We fear being ripped off, either with deficient lenses or an excessive price tag. 
Fortunately, we have a few guidelines to avoid both going too cheap and paying too much.  Here's our five contact lens shopping recommendations:
Buy online rather than pay the upcharge at a doctor's office.
Avoid the grey market by buying from reputable sites.
Don't get sucked into rebate sales tactics.
Make use of your insurance.
Make savings continuous with a subscription.
Here's a little more on what we mean.
1.    Prefer Online to Doctor's Office
If you have never had contacts before, the first step is to visit the eye doctor and get a contact lens prescription (which is different than an eyeglass prescription).  There is no getting around that step.  Once you have your first prescription though, then you have some options.
The traditional way to buy contacts is directly through your doctor's office.  This way, you can have fairly high confidence that they will get it right.  Unfortunately, the lenses are almost guaranteed to be expensive. 
While it may look abbreviated, your prescription tells you all the information you need to do your own digital shopping.  We have an article about prescriptions which can help you navigate your doctor's shorthand. 
Armed with this knowledge, you can find online the same lenses your doctor would buy you but at a much more reasonable cost.  Brands like Acuvue, Biofinity, and Air Optix allow online retailers to sell the same products which a doctor could provide. In fact, Simple Contacts carries all major brands, which you can easily find here.
In the past, you would still have to go into your doctor's office every six months to renew your prescription.  Today, you can do that from your couch without the doctor's bill.
Simple Contacts offers a telemedicine service that makes getting contacts easier and more affordable.  Our team of doctors can help you first renew your prescription from your phone and then get your contacts of choice delivered to your door. 
Renewing and buying online is cheaper, quicker, and more convenient.
2.    Avoid the Grey Market
It does not take much looking to see that there are two kinds of online sites selling contacts, and one is much cheaper than the other.  There's a reason for that.
Foreign manufacturers using substandard materials have created what is known as the "grey market" for contact lenses.  If you find a website selling lenses far lower than market price, they may be sourcing their supply from this grey market.
Even trusted brand names have been used by imposters trying to flip their irritating or contaminated products.  Instances have happened such as an occurrence in France where a manufacturer producing dirt cheap lenses sold them under the name of a trusted U.S. brand.
With one's eye health on the line, it is important to buy from a trusted healthcare business that has properly sourced its lenses.  There are cost effective lenses out there.  Just be wary of sites that dip too far below market rates.
3.    Rebates are Outdated
For a long time, rebates served contact lens companies as one of their most effective sales techniques.  There are still many companies that try to use this technique today.
The strategy:
The consumer buys contact lenses at full retail price.
Consumer must mail in UPC's.
Consumer must wait 4-6 weeks for check.
Consumer must cash check.
Consumer forgets a step.
This sales tactic has saved companies millions every year at a cost to consumers.  Even if you are play the coupon game well, there is an easier way.
We believe that you are too busy to worry about rebates.  With our buy more, save more principles and price matching policy, Simple Contacts saves you money without the hassle. 
Simple Contacts offers lenses at 10-25% lower rates than other retailers.  You can also subscribe to get even better savings, but more on that later.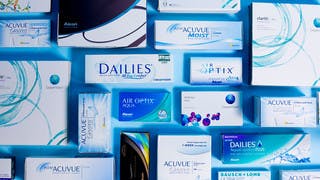 Get 20% Off Contacts
Valid for new customers only.
4.    Save with Insurance
You are paying that monthly insurance bill.  You had better put it to use.
Insurance does not just apply at the doctor's office.  If you buy through the right provider, you can get the online discount and your insurance coverage.
All major insurance companies trust and work with Simple Contacts, covering all our products.  We have even created an easy guide to help you submit your claim to your specific insurance company.
FSAs and HSAs also apply.  If you are not familiar with these healthcare payment methods, we have a full discussion of the advantages and challenges of both. 
In short, FSAs and HSAs allow you to pay for your contacts with pre-tax money.  Generally offered from an employer, these savings accounts apply to qualified healthcare needs and providers.
Simple Contacts is compatible with both.  You and your healthcare plan representative know your situation best, but using these payment methods often lead to significant savings over the long run by reducing your taxable income.
5.    Purchase on a Subscription Basis
As with most products out there, you can save by buying in bulk.  Unfortunately, that comes with a heavy upfront cost, and most of us prefer monthly budgets. 
Simple Refresh provides an easier way.  This subscription-based method for maintaining your lens supply is both convenient and cost-effective.
Using Simple Refresh is easy:
Choose your favorite brand of contacts
Set your schedule and manage on the fly
Get your contacts and take care
You are not shoehorned into a single brand.  You can get the type of contact that you find most comfortable for as long as you want.
You don't need to worry about finding space for your contact box beneath the bathroom sink.  When it's time to replace your lenses, new ones will show up at your door.  If something in your life or schedule changes, adjusting the delivery calendar is easy. 
All along, you are saving with every purchase of lenses through our trusted, upfront discounts.
In Conclusion
Simple Contacts offers consumers a way to save on securely sourced contacts of your choice at reasonable price without the hassle of rebates.  We also save you money and time on doctor visits by renewing your prescription from home.
Ready to save money on contact lenses? Get started here.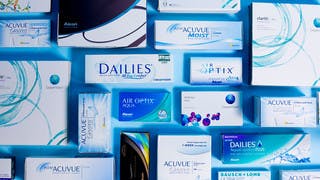 Get 20% Off Contacts
Valid for new customers only.