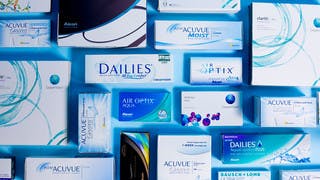 Get 20% Off Contacts
Valid for new customers only.
Use Daily Contacts
Daily contacts, those designed to be disposed of after one use, are generally more convenient than weekly or monthly contacts.  This is especially true while traveling.
The main perk is that you don't have to worry about cleaning your lenses.  No need to worry about fitting that bottle of solution in your travel bag.  No need to worry about whether it is too big for the TSA.
Whether you have a long plane ride or are making a serious switch in time zones, you may be sleeping at odd times during your trip.  You should never sleep in your contacts.  Daily disposables save you the hassle of cleaning and storing your lenses every time you need to take a nap.
Planning to swim during the trip?  Daily contacts are the best lenses for swimming.  The water risks contaminating your lenses, so simply disposing of them is the safest way to avoid an eye infection.
For more details on how to use or acquire these lenses, check out our guide to daily contacts.
How to Handle the Flight
As already mentioned, using daily disposables avoids the whole problem of packing solution onto a plane.  If you need to bring solution, or if you just have eye drops, make sure you are compliant with the TSA's posted regulations.
On the plane, you can expect a much drier atmosphere.  If possible, we recommend not wearing contacts for the flight.  This will be overall more comfortable for your eyes and gives you the freedom to sleep.
Pack Extra Lenses
Be prepared and anticipate the worst.  Sometimes lenses break.  Sometimes they get lost.  Make sure that you have a supply of extra lenses.  This is easy if you are using dailies.  Even if you have monthly lenses that are supposed to last the trip, make sure to bring a backup pair or two.
Bringing a set of eyeglasses, if you have them, is a good idea too.  You don't have to wear them while out and about, but they can give your eyes a much-needed rest during downtime.  They also serve as an effective backup plan if your contacts are lost.
Order Replacements on the Go
Maybe your luggage gets lost.  Maybe the Loch Ness Monster eats your lens supply.  Things happen while you travel.
Whatever happens, Simple Contacts has you covered.  You can order lenses from us during your trip.  We will have them shipped to your hotel or wherever you need them. We don't ship overseas but if you're ever in need of contacts while traveling in the US, Simple Contacts has your back.
For this to be an option, make sure you bring a prescription with you.  Even if you have an old prescription, our team of doctors can update it for you over the web. 
Info about renewing your prescription online: Our FAQs Page
Buying contacts on the go: Guide to Buying Contacts Online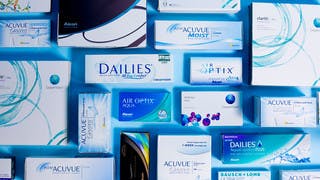 Get 20% Off Contacts
Valid for new customers only.